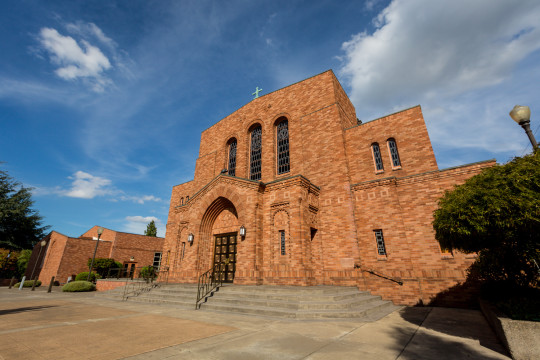 A Message from Fr. Paul
As we continue this blessed season of Great Lent, we seek to enrich our spiritual lives through the reading of scripture, participation in the inspiring Lenten services, personal reflection and acts of kindness towards others.
At Holy Trinity Greek Orthodox Cathedral there are many ways to take part in the Lenten experience. Please see the calendar provided for services and programs that are taking place. Below we also have outlined the services for Holy Week and Pascha.
This is a great time for our parishioners to experience spiritual renewal and for us to welcome visitors that may be interested in the Orthodox faith.
We look forward to welcoming all those that enter our Cathedral doors!
Love in Christ,
Fr. Paul T. Paris
---
Services for Holy Week and Pascha 2018
March 31, Saturday of Lazarus: 9:30 AM Divine Liturgy
following service: Lenten Pancake Breakfast & tying of Palm Crosses
5:00 PM Great Vespers
Palm Sunday, April 1: 10:00 AM Divine Liturgy
followed by Palm Sunday Luncheon prepared by the Friends of St. John
7:00 PM Service of the Bridegroom
Holy Monday, April 2: 9:30 AM Presanctified Liturgy
7:00 PM Service of the Bridegroom
Holy Tuesday, April 3: 9:30 AM Presanctified Liturgy
7:00 PM Service of the Bridegroom
Holy Wednesday, April 4: 9:30 AM Presanctified Liturgy
4:00 PM Holy Unction
7:00 PM Holy Unction
Holy Thursday, April 5: 9:30 AM Divine Liturgy of St. Basil
Institution of the Eucharist
7:00 PM The Passion of Christ/ The Twelve Gospels
Holy Friday, April 6: 9:30 AM The Royal Hours
3:00 PM The Descent from the Cross
7:00 PM The Lamentations
Holy Saturday, April 7: 9:30 AM Vesperal Divine Liturgy of St. Basil
11:00 PM Vigil of Pascha
Great and Holy Pascha Midnight ANASTASIS & Paschal Divine Liturgy
Sunday, April 8: 12:00 noon Vespers of AGAPE; treats for the children
Friday, April 13: 9:30 AM Divine Liturgy
Feast of the Theotokos the Life-Giving Spring
Holy Confession:
Please contact the office or visit Father Paul personally to schedule a time
---